Welcome to Smartview Exteriors
• Repair and Clean Gutters
• Repair Soffit, Fascia and Siding
• Leafgaurd - never clean gutters again! Leafguard protects against leaves, pine needles and clogged up down pipes
• Replace leaking gutters with 5" continuous gutters
All Workmanship Guaranteed!!! FREE ESTIMATES!!! Contact us today!
Services
Gutters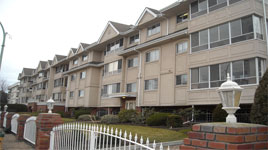 Gutters known as eaves trough helps keep the rain water away from your home foundation when the rain water enters your gutter you have a way to displace the water from your home to a less damaging area.The use of your down pipe with a extension you can let the rain water run on to the lawn area, shrubs and the base of trees or displace water into a under ground rock pit. Gutters and down pipes are available in many baked colors to give your home a nice look or fade away into your roof line.
Leafguard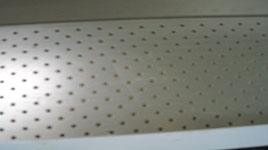 Leafguard is a great add on to your home with needle and leaf problems. When your gutters get leaves and needles in the gutter they move towards the drain and plug the drain downpipe, when the gutters being to fill with rain water the weight of the water will start to cause stress on the gutters and fasteners, then the corners will start to leak and the gutters pull away from the fascia board., when the leafguard is installed the drains do not get plugged and gutters do not get fill full of water and ice in the winter. This prevents your gutters from being damaged and will function properly.
Gutter Edge™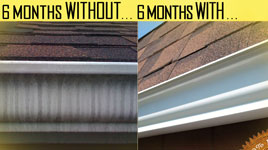 Gutter Edge™ is a small "add-on" which snaps into an existing gutter to deflect any water, mud, debris, and other junk that gets on your gutters and makes them streak and blacken. Since it's virtually maintenance-free, you'll have more time to do the things you enjoy. You also won't have to risk getting hurt by climbing up on your roof every few months to clean the outside of your gutter. Plus, it reduces dangerous icicle formation in the winter and can be installed in under 10 minutes. Learn More . . .
Gutter Cleaner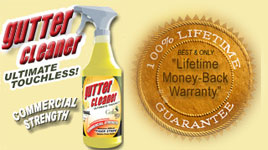 Gutter Edge™ ULTIMATE Touchless Gutter Cleaner is a concentrated COMMERCIAL STRENGTH solution for cleaning exterior aluminum gutters. No other product on the market can clean those ugly stains off gutters better than Gutter Edge™ Gutter Cleaner! Spray on and rinse off!
Vinyl Siding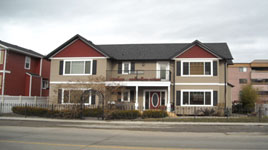 There are various options when it comes to choosing the right siding for your home. Vinyl siding is an excellent cost efficient way to improve the look and feel of your home,lasting longer than a new coat of paint, vinyl siding is low maintenance and often only needs a spray from the garden hose to be cleaned. With a variety of profiles, sizes, colors and accessories you can achieve almost any look you want with vinyl siding is backed with a lifetime limited, non-prorated, hail protection and fade coverage warranty.
Fibre Cement Siding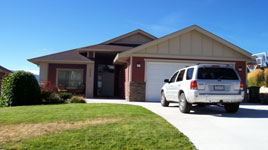 Certainteed fibre cement siding is designed to last a lifetime. The siding is resistant to rotting, cracking hail damage, termites, and fire. Fibre cement provides you with a beautiful home that is safe from elements and accidental wear and tear. Choose from 26 baked colors available and the types are horizontal, board and batten, panel vertical,and shingle siding for your home. Trim boards and fascia boards add the finishing touch to your home and provide unmatched durability to corners, windows, columns, rakes and gables and comes with a 50 years transferable warranty, enhancing and protecting your home.
Soffit & Fascia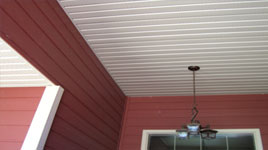 Aluminum soffit and fascia is available in many colors and will never color fade which will ensure years of service to your home exterior by using custom high quality soffit and fascia. Soffit provides essential ventilation to your home eaves and underneath the deck area. Replacement options include vent or non vented aluminum panels, vinyl or wood tongue and groove. Fascia provides the finish look on gable ends and the options include engineered wood products, aluminum and natural wood also available in a variety of colors, styles and sizes to suit your home.
Patio Covers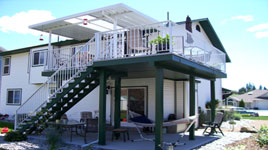 To cover existing decks to protect your deck and yourself from the elements whether it's rain, sleet, snow or sun no more shoveling in the winter, protection from the sun and its harmful rays The patio covers can be utilized for a wide variety of applications for patio covers, deck covers, carports, and any large entertainment areas. Patio Covers are manufactured with the highest quality building materials and engineered for Canadian winters, maintenance free comes with 20 years product warranty . If you want extra light is required , add as many skylights as you wish which are optional. Your deck area would be a wonderful place to relax and enjoy and BBQ year round. This project also included building a deck and picket aluminum railings.
Patio Enclosures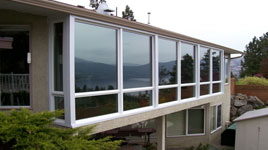 Your enjoyment of the patio deck or porch no longer ends with the changing of the seasons, with a 3 or 4 season enclosure you and your family can enjoy your enclosure from the elements of the changing weather from season to season. This project is a custom built enclosure with low e argon glass tinted with vinyl frame walls with casement windows.
Windows and Doors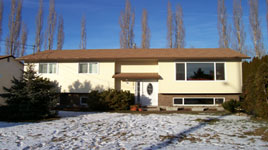 Over time windows and doors wear out much like any other component in your home, old windows tend to be drafty and much less energy efficient than today's windows and doors. Other common problems include condensation, noise, rotting wood, frames, mold, fogging and cracks. New windows and doors are far more energy efficient and lower maintenance, and with a lifetime warranty for vinyl windows.
We have the perfect renovation vinyl sliding window!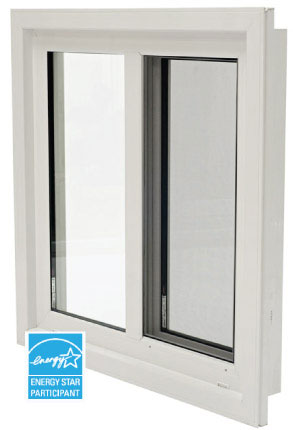 Low maintenance high gloss vinyl frame
Double or triple pane glass
Low-e and Argon gas is standard
Removable non-glare screens are included with all opening windows
Easy glass replacement from the interior
100% heat fusion welded corners
Complies with the North American Fenestration Standard
Heavy-duty multi-chamber vinyl frame resists twisting and warping
Double weather striping controls drafts and reduces heating cost
Spring-loaded sash balancers allow the windows to open with greatest of ease
Many frame, glass, and accessory options are available
Standard White, Desert Sand and exterior paint colors available. (see below)
.